ALL IN ONE 
BED HEAD PANEL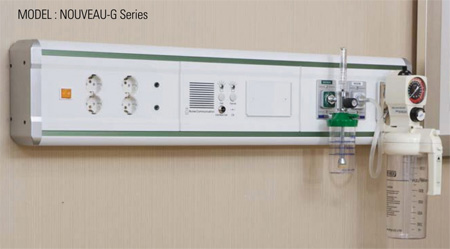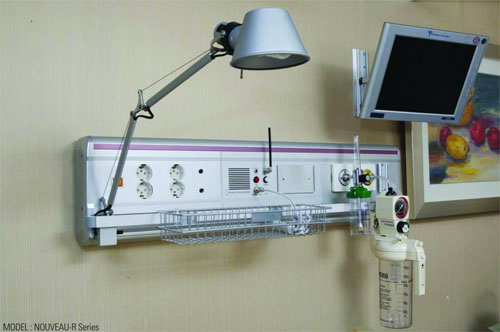 The fully integrated Medical care system with all the benefits of MMA's Bed Head Unit with the proven, Comprehensive Medical range of equipment and accessories. Never before has a Medical Bed Head Unit provided such flexibility, adaptability and expandability in delivering essential life support service. Our bed head unit Nouveau series 2009 satisfies all the requirements of the hospital.
Design and Comport
Special housing designed to provide  smooth lines of its overhead strip.
* Easy access to electrical sockets fixed on a sloping panel well fitting easily accessible plugs.
* Completely integrated efficient lighting designed to maximize reflection without dazzle.
* Finished in white epoxy paint (superior quality powder coating RAL 9016)
Hygiene and Safety

Smooth surface avoiding any accumulation of dust and germs for a better asepsis.
* Flat and smooth strip lighting top allowing a safe and an easy cleaning.
* Total separation of oxygen and electrical compartments.
* Efficient and invisible ventilation of the medical oxygen section. Each product in conformity with standard.